New Stock Media This Week
Visit our booth for free stuff at SXSW! :: #freebiesatbooth712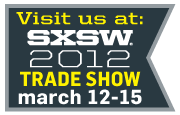 Our contributors have been hard at work this week, adding tons of new royalty free music, sound effects, stock footage, and photos to the Productiontrax.com library. We've highlighted some of our favorites this week for your viewing pleasure. Be sure to check us out at SXSW in Austin, TX next week! Stop by our booth and say hi, and we'll give you some free stuff (it's number 712).

Have you used media from Productiontrax.com in your project? Tell us about it! Send us photos, links, articles and we'll feature you on our site and in our blog.


We need your help to continue our quest to take over the world with amazing royalty free media. Like us and +1 us from our homepage! And be sure to watch for our site redesign launching very, very soon -- we're working around the clock recoding most of the site from scratch to make it faster, better, easier, and more useful for you.
Sweet Spot (60 Second Spot)
by Youniverse Music
Track ID: 294407 | Mixed Genre > :60 Second Spots - Advertising/Commercial

A sweet, infectious happy rock tune straight from the sunny beaches of south Florida. High tempo and upbeat, perfect for advertising, travel, adventure, and anything needing a high-energy pop-culture vibe.

tags: happy, beach, optimistic, excited, energy, vibrant
Augmented Reality (Background Version)
by Melodality Music
Track ID: 294624 | Film Moods > Corporate

This corporate track features a smooth and mellow feel. It's an ideal soundtrack to introduce a new product or a corporate/business website. Motivational, lively, and positive with gentle, yet driving piano. Available in WAV, FLAC, and MP3 download.

tags: corporate, business, augmented, hopeful, relaxed, mellow